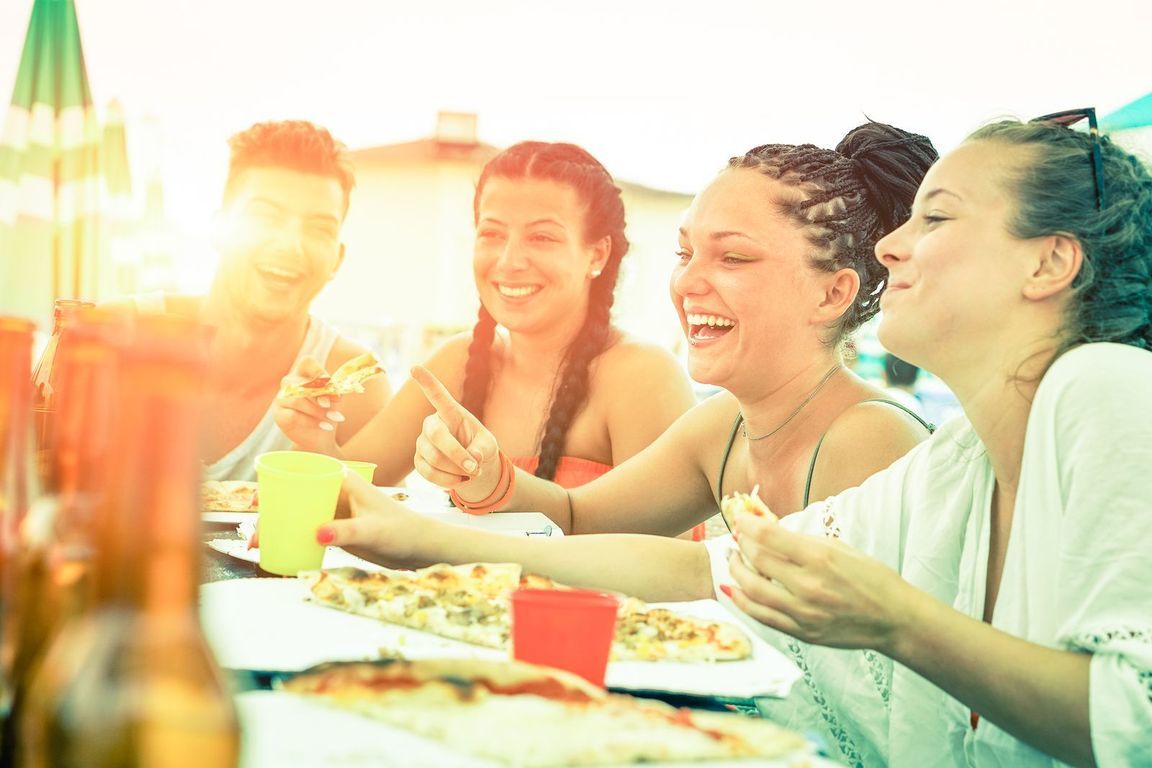 Feel Like
Whether you wish to share time with friends drinking a refreshing well known Café Frape, or a traditional Greek coffee, or even an Italian Capuccino, Zakynthos has an option to all. Local cafes are by tradition places, where all zakynthians gather and network with each other. When strolling over Zakynthos town, you will find one in every block. Some are traditional (also known as Cafenia) and others modern and ideal for younger people. As the night is coming by, Zakynthian night clubs are ideal for all kind of tastes. From the very well known traditional ' Bouzoukia' lovers, to mainstream clubs and pubs or even modern clubs where you can enjoy most of the top European and USA DJ's. Just bring your friends and share your precious time.
Rosto Roof Garden
Rosto Roof Garden Pool Bar at Diana Hotel's 4th floor. Breathtaking views right in the heart of Zakynthos city center, Saint Marcos Square. Rosto Roof Garden is open to residents and non residents of Diana Hotel. Breathtaking views of the city of Zakynthos, the Ionian sea and the historical hill of Bohali invites you for a morning swim or a chill out evening. (open from Spring time).
Map it here https://goo.gl/maps/u6PMMUpd2Ap
Kazino Café Bar
Kazino Café is situated right next to Diana Hotel, right in the heart of the city. A historical building where the higher social classes of old Zakynthos used to gather. It is known that in this building all the Italian Operas and theater plays from Scala di Milano where firstly presented in Kazino and depending on the judgment of the Zakynthians, it was then exposed to the Italian people. Nowadays, you can enjoy a stylish and modern atmosphere, listen to mainstream music and enjoy wonderful coffee flavours and a big variety of fresh fruit cocktails.
Map it here https://goo.gl/maps/JYuqPogUbwR2
Base Cafe
Base Café is one of the most well known places in zakynthos. Enjoy a relaxing morning with a good cup of coffee and watch around the traditional Square of Saint Marco. Just bought a new pair of Prada shoes? This is the place where all Zakynthians will see them. Are you a house music lover? Share your cocktail under the DJ set. Base café is the place where major happenings on the island take place, such as the biggest carnival party in town during February.
Map it here https://goo.gl/maps/PY2a1y9ZRdF2
Avant Garde
A modern and stylish coffee shop located in the heart of the island!
Enjoy your coffee on the square in an area specially designed to give you maximum relaxation. Ideal for socializing with the locals.
Map it here https://goo.gl/maps/SVYcEjuap772
Saint Marco Cafe
A multi faced cafe-bar of high aesthetic design, in the heart of Saint Marco Square. You and you friends can enjoy the finest coffees in the world, exceptional hot or cold chocolates as well as Hagen Dazs sweets and ice-cream. Combine taste with wonderful traditional surroundings of the Venetian buildings and the Catholic church. Velvet Bar on the top floor is a mysterious and sensuous place.
Map it here https://goo.gl/maps/NDbgGfNwUrs
Greco Café
Walk with friends in the harbor road of Stada Marina, just like the old Zakynthian did and enjoy the beauty of the sea and picturesque of the Ferry Boats parked in the edge of the port. Greco Café is located right in the center of the perimeter of the harbor road, facilitating you with a panoramic view of the seaport. A modern minimal designed café bar offering exquisite taste of coffee and a variety of refreshments.
Map it here https://goo.gl/maps/vu5ZDziY4aU2
Filion Café
Filion Café is located right in the beginning of the famous Alexandrou Roma shopping street, next to saint Marco Square. A place where locals meet each other, gossiping and having endless convertations about politics. Had a exhausting shopping day? A cup of traditional Greek coffee is what you need. Hand made in a traditional way, boiled in the sand ember.
Map it here https://goo.gl/maps/hVaUD5YUFu32
Kokkinos Vrahos Café
One of the oldest café's in Zakynthos city, located in the historical building of the Municipal Library Solomos Square. A place where our parents used to hang out and our children will continue the tradition. Greek tastes of coffee, fresh juices, Zakynthian desserts such as 'Frugania', combined with the wonderful atmosphere of the square will give you a relaxing experience you take back home.
Map it here https://goo.gl/maps/ikrvgKckV722
Fiorentinos Bohali
A breathtaking view of the capital town, as well as to the mountains of the Peloponnese on mainland Greece. Where Dionysios Solomos the National Poet of Greece, found inspiration to write his poem the "Hymn to Freedom" whose words later formed the Greek National Anthem. It takes only a few seconds walking to visit the Venetian Castle in Bohali. Why not combining history with a good variety of Greek desserts like 'Kormos' or 'Frugania', along with plenty of chocolate and coffee flavours. Fiorentinos in Bohali is a family run place that promises to offer you a personalized experience in a cozy and friendly atmosphere.
Map it here https://goo.gl/maps/y4ddCpSf93S2
Mythos Cafe
The traditional village Keri, is situated about 20 km from Zakynthos town overlooking the the Ionian Sea.
Mythos Café bar is situated on a cliff a few minutes walking from Keri harbor. Very cleverly builded, providing a veranda with wonderful view, surrounded by big trees. This is the place where Zakynthians usually gather on Sundays and Bank holidays.
Most of the locals at Keri still occupy themselves with agriculture and farming. The lush olive groves and vineyards produce the best quality olive oil and wine in Zakynthos.
Keri village is well known for its old stone-built houses and narrow streets. Those old houses have survived the earthquake of 1953 and are great samples of the local traditional architecture.
One of the most popular places in Keri is only 1 km from the village, called 'Keri lighthouse' where you can enjoy stunning view, on top of a 300m high cliff. This lighthouse has guided ships for more than a century. The rocky landscape and the steep cliff match perfectly with one of the most spectacular sunset views. The small port at Limni Keriou harbors small fishing boats. Watch the sunset with your friends, enjoying local delicacies with flavored coffees and relax like you never had before.
Map it here https://goo.gl/maps/7SVxBS7SDjs
Mahogany art café Volimes
Combine your excursion with a visit to Mahogany Café. A themed establishment, decorated with numerous varieties of dark-colored hardwood in West Indian style and soft carpeting. Enjoy an extensive menu of desserts, hot or cold chocolates, coffees and Zakythian delicacies. A family run business in the heart of the most traditional village in Zakynthos.
Volimes is located about 30 km away from the north-west of the capital of the island. A great place to start exploring Northern Zakynthos visiting the well known Blue Caves and Shipwreck.
The landscape in Volimes is especially picturesque and interesting, due to the traditionally oriented architecture of the buildings. The local economy is mainly based on agriculture and locally produced products. There are quite a few gift shops where many hand-made products are presented, like unique carpets, leatherwear, handbags, miniature turtles, pottery, even locally produced sweets made from honey and almonds, like mandolato and pasteli.
Map it here https://goo.gl/maps/nTc87Miit5m
Barrage Club
One of the most famous dance stages in Zakynthos, located in Argasi, where all Zakynthians young at heart network with each other. Barrage Club is well known for implementing the biggest happenings on the island. If you are a house music lover, this is the place where you will spot famous DJ's on the booth such as Little Louie Vega, David Morales, Dennis Ferrer. Situated in a historical building, surrounded with wonderful gardens, offering splendid atmosphere to its guests.
Map it here https://goo.gl/maps/X4aoUB8CNCq
Minima Club
Fancy seeing a famous Greek Club stage? This is an ideal place to enjoy Greek pop music and see how Greeks party. Pop art décor with LED lightings and modern furniture along with cheerful atmosphere will let you spend a wonderful experience. Located in Argasi, only a few minutes walking from Zakynthos capital town.
Map it here https://goo.gl/maps/hrP2S7azVgx
Koutsis Club
This is the most famous Greek live scenes on the island. A place where you will see all Zakynthians gathered around. Happenings and events are taking place in Koutsis during summertime with major Greek singers. Here, you can throw as many flowers as you want and become part of this Greek tradition which surprises foreigners.
Map it here https://goo.gl/maps/qwLbTjUiUqk
Island
A very stylish place with modern desing and amazing view of Zakynthos town. Island club is Ideal for young people fancying mainstream and House music. During summertime you can enjoy special events with famous DJ's from the Greek and International scene.
Map it here https://goo.gl/maps/8iyb1JaHXnJ2
Cameo Bar
Probably one of the best hallmarks in Zakynthos. Located in a small island, adjacent to Laganas beach, right in the heart of Caretta Caretta neibourhood. An ideal chill out place to relax with your friends or have a romantic drink with your other half.
Map it here https://goo.gl/maps/EEbmc1UiLT92
Zeros Club
Located in the famous lively resort of Laganas, in the epicenter of Zakynthos nightlife. A huge place, with room for over 1500 people and modern décor. A massive dancefloor and party atmosphere under the rhythm of Pop, House, R & B and Mainstream. Various events with top DJ's from UK are taking place from may until October.
Map it here https://goo.gl/maps/x1Jfbxpk1r12
Rescue Club
Rescue is the largest night club in Zakynthos and the Ionian Islands. With some of the best bartenders in Europe, with unique style not just serving drinks, but putting on a show that will give you a breathtaking experience. If the names of David Morales, Judje Jules or N- Trance ring your bells, then this is the place to be.
Map it here https://goo.gl/maps/vaukifdcRyS2
Ocean inn
Situated up the hill, over the main Laganas crossroad. Very famous for its after hour parties and getting busy after 2 am. An ideal place if you are a late clubber fancying House, Trance and Techno music, with guest DJ's from the rest of Laganas clubs.
Map it here https://goo.gl/maps/Sa1r3oi5VJS2
Magic bar
Located in the center of Argasi, where the nightlife of the resort is alive. An ideal place to enjoy your afternoon cocktail before dinner and perfect for those who fancy a good quality place with fine service and mainstream music at night.
Map it here https://goo.gl/maps/wEsKN1FmDBo
Cheers Bar
This is a very nice Ethnic bar by the sea, if you like something a bit more chilled out than the bars on the main road. Very cool decor and atmosphere that definately worth a visit.
Map it here https://goo.gl/maps/RwJpTbJMkgv
Movida Bar-Club
Movida is one of the most famous mainstream places around the island.
Located in Bohali hill right next to the Venetian Castle of Zakynthos.
This is the place where the most of the Zakynthians visit and it is very well known for the fantastic atmosphere it offers and the magnificent views to the main town and the Ionian sea.
For reservations please visit www.movida.gr