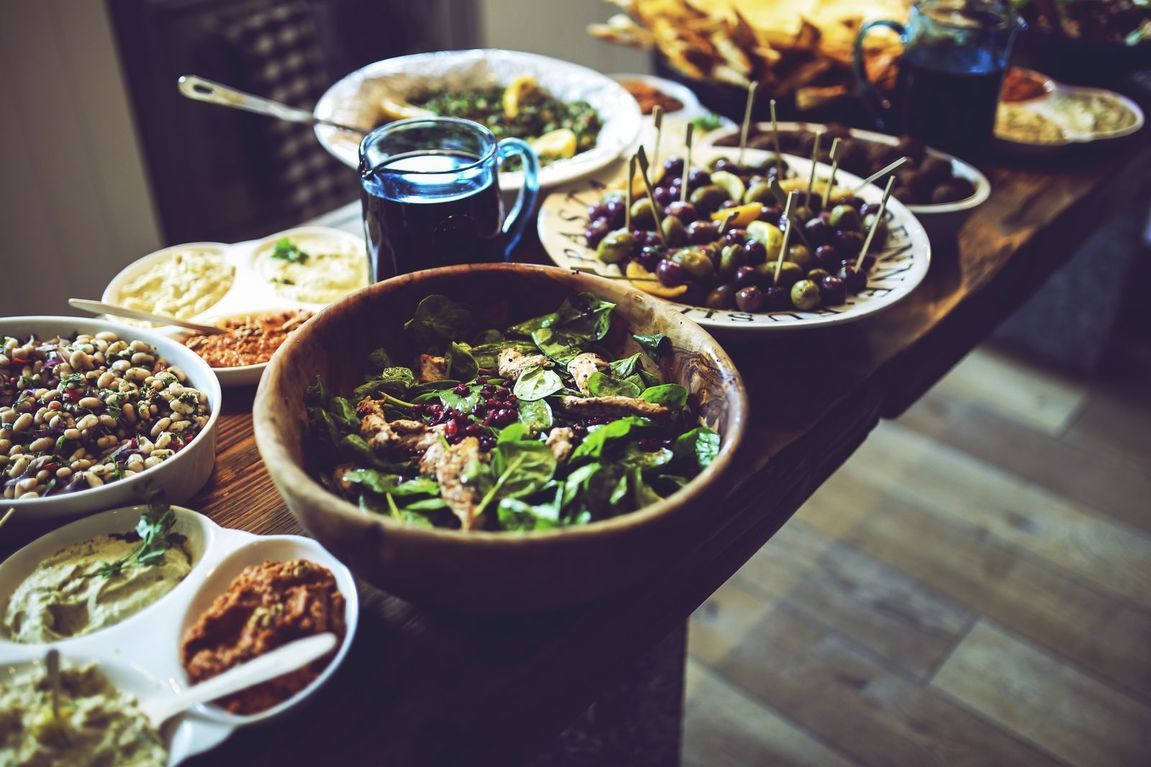 Feel Like
Why not use your holiday to indulge in delicious organic produse and wholesome recipes. In zakynthos food is a way of life.Equally importan is the loving food manner in which food gathered, prepared and served at the table. Zakynthians enjoy delicious organic food at a leisurely pace, with laughter, hearty converation and song. Authentic island cuisine is prepared to stimulate the senses, with all the pungency of mountain herbs, bay, oregano, rosemary, basil, parsley thyme, mint, sage, lemon and garlic are just a few of the aromatic ingredients used. Basic the kitcen are raw local fruits, olive oil, fresh vagatables and herbs, along with greens, cereals and nuts. organic seeds, such as sunflower, pine, pumpkin and sesame complement a selection of nutritious pulses and beans. Meals include fresh fish, seafood, chicken and lean meat. Honey, yoghurt and cheeses, especially feta are frequently used. Sauses made from tomatoes olive oil, egg and lemon are served with main dishes to help savour the flavor of Zakynthian food at its best.
Fitoura
Apart from the local natural products, you can also find pastries which are produced only on the island with original recipes lost in time. The nougat is a pastry that is prepared with egg whites, honey or sugar and almond and is consumed by the locals, mainly in the Carnival period. The nougat with honey is prepared with sesame and honey with the addition of candies and almond while fytoura is prepared with semolina and water, fried in olive oil and sprinkled with sugar. Nougat with honey and fytoura are consumed mainly in small pieces and are prepared in open air benches.
Honey
The nectar of eternal youth and vitality Honey in zakynthos is organic and full of flavour. Aromatic herbs, wildflowers and pines trees provide ideal nectar for the honeybees.Beekeepers collect different types of honey.Thyme blossom honey has a light flavour, ranging in colour from white to dark yellow.Pine forest honey is deep brown in colour and not as sweet, it also has fewer calories. For a balanced diet use honey in moderation as a sweetener in drinks desert and sauses. Did you know that honey provides instant nourishment and energy.
Oil Cheese
Oil Cheese, AKA Pretza is not sold widely and the recipe is a very well kept secret among the locals but you can still find it in good family-run tavernas. This creamy salty cheese is served as a dip and is a combination of sheep milk feta, whole-milk yogurt, thyme, olive oil and lemon juice. Ladotyri (translating into oily cheese) is often used in casseroles and is a semi-hard oil-cured cheese that is a great accompaniment to the local favourite mastelado wine.
Yogurt
For vitality, strength & healing Organic yoghort strengthens and heals. It is cultured mainly from sheep and goats milk in zakynthos. Did you know that if you are suffering with sunburn, apply a thick covering of yoghurt on the skin to help reduse pain and redness.
Tomatoes
Perfect for topping up your tan!
Tomatoes, another staple food of Zakynthos, can reduse the risk of lung, prostate and stomach cancer by up to 40%. This litle red wonder fruit contains traces of selenium, effective in protectin against canser, protassium, helpfull for the functioning of the heart, and magnesium, wich helps muscular cramping. High in vitamin C, tomatoes help strengthen yourbody's defenses and two thirds of your daily requirement can be met by eating to tomatoes. Did you know that tomatoes are rich an carotenes that eliminate toxic free radicals in your body, enhance immune function, and fight cancer cells.They also contribute to a clear complexion and a deep quick tan. The most popular and traditional dish in Zakynthos and all over Greece is stuffed tomatoes, called as "Gemista".
Pasteli
Pasteli is a traditional Mediterranean titbit made mainly by sesame and honey. We do not know exactly its first origins, but undoubtedly comes from the Mediterranean Basin. It has a wonderful taste and is ideal for all ages. Pasteli is the ideal solution for moments when you feel like something sweet. Due to the coexistence of sesame and honey, Pasteli is considered as one of the most nutritive delicacies, full of useful vitamins for the human organism. For that reason especially in Zakynthos, is very popular among children and adults. The superiority of the Greek Pasteli, comes from the indisputable superiority of its ingredients. It is well known that Greek sesame and honey are the best in the world. Thus, it is inevitable for the Greek Pasteli to be the best in the world.
Onion and Garlic
Natures wonder buld Onion and garlic in zakynthian kitcen often go hand in hand and these miracle bulbs are like a natural aspirin a preventative against heart attacks and strokes. With antispasmodic and antibacterial properties, garlic serves as a remedy for numerous ailments. Did you know that eating raw parsley helps to avoid bad garlic breath. The chlorophyll in parsley nautralizes the strong odour of garlic. The sweet Zakynthian onion is an onion, which comes from Venice and grown in Belushi village, where it got its name, Belousiotiko onion. If you visit the central market of Venice, you will see the benches of the greengrocer nerokremmydo, which is slightly smaller in size than the Zakynthian because the groud of Belushi helped it develop bigger. The most common use of garlic in Zakynthos is to make the famous "Tzatziki". The taste of the sweet Zakynthian onion is unbelievable.
Winery in Zakynthos
Zakynthos is the southernmost of the Ionian islands and the one on which the legacy of Venetian occupation is still most strongly felt. It was also the subject of Greece's earliest ambelographical document, a seventeenth century poem mentioning thirty-four cultivars. At the start of the twentieth century, according to Lambert-Gocs, (Archduke) Ludwig Salvator found more than eighty. That this would be so is remarkable considering the history of the vine under Venetian rule.
What existed for viticulture prior to the arrival of the Venetians on the island is unrecorded. It has been widely assumed that the Ionian genre known as Verdéa and the variety Robola (similar in name to Ribolla) were imported by the Venetians. Evidence provided by Lambert-Gocs, however, suggests that Verdéa is only the Italian name for a style of white wine that has been popular across the northern Mediterranean basin but which has origins in Ancient Greece. Likewise, genetic analysis has revealed that the Robola grape has no particular relation to the Italian Ribolla family and may not be a distinct cultivar at all.
The Venetians doubtlessly supported the cultivation of the vine, despite a decision that would profoundly deteriorate the spectrum of wines produced on the island over subsequent centuries. In 1516, at time at which there was no lack of exportable Malvasia from other Venetian Aegean, the red currant, native to the Peloponessos and a commodity of considerable popularity in Europe, was planted on Zakynthos with the aim capitilizing on this demand. This idea was so remarkably successful that the Venetian name 'Zante' is synonymous to this day with the same species of currant. Even more remarkable is the fact that wine grapes, though relegated to ever smaller parcels, were never abandoned altogether. The red currant itself came to be vinified and markets for its wine were developed so extensively that by the 1800s currant wine, or Stafiditis, was the reigning commercial wine on the island.
The end of the period of British rule (1815-1864) marked the end of significant foreign markets for currants and the onset of a depressed economy. While currants still constitute a high proportion of vineyard area, the surviving wine grapes are of increasing commercial importance. Verdéa, the refreshing and acidic 'green' wine mentioned above, though eclipsed in the past by Lianoroïdi (or Lianorrógi), a highly regarded sweet white wine which itself fell victim to the commercial force of currant wine, has proven the fittest to survive. In modern times, Verdea is produced mainly from the local variety Goustolidi, often with some combination of Robola, Skiadópoulo, Pávlos, Asproudi or Aretí.
The most well-known producer on Zakynthos is the noble Komoutos family, who has been making wine there since 1638. Their Verdea is made with most of these varietes with Pinot Gris. The Verdéa of Theodoros Voultsos (marketed under the Kalliniko label) contains Goustolidi, Skiadopoulo, Robola and Pávlos. The local Zakynthos cooperative uses only Pávlos and Skiadópoulo in its version.
Red varieties on Zakynthos are in limited production, but not without merit. The Avgoustiatis, a dark red grape blended either with other dark grapes to produce so called 'black" wine or with grapes of lesser color to produce rosé. Komoutos has a Rouge and a Grand Reserve Rouge, both barrel-aged and consisting of Avgoustiatis, Katsakoúlias, Agiomavritiko and other local varieties. Another local producer, Solomos, has a red of Avgoustiatis, Katsakoulias, and Stafidambelo.
Komoutos makes their rosé of Avgoustiatis, Katsakoúlias and Agiomavritiko with an admixture of the neo-Ionian Fileri, Mandilaria and Xynómavro. Voultsos makes a less red-intensive rosé featuring Roditis, Violentó and Katsakoúlias.
For those you wish to experience wine production in Zakynthos, please visit http://www.oenolpi.gr/en-company.php
Poterry in Zakynthos
Pottery is another very famous craft of Zakynthos and nowadays more and more artists produce a wide range of authentic handmade ceramics in forms, designs and colors inspired from life and nature of the Island. Pottery produces not only decorative pieces such as vases, wall plates and plaques and mirrors but also functional pieces such as jugs, bowls, coffee boxes, teapots etc. Many ceramic studios are open to the guests of the island not only to admire and buy these wonderful craft pieces but to also watch closely the way of pottery making. Adamieion is a pottery studio and craft gallery located in Marineika, Zakynthos, Greece, where you may see the whole process of making ceramics and also find fine pottery for purchase. Marineika is a small village, 3 miles north from Zakynthos town and 25-30 minutes walk from the beautiful beach of Tsilivi. Planos-Tsilivi is one of the most popular tourist resorts of Zakynthos island.
The process
Clay comes in plastic bags. I use clay from Greece but not from Zakynthos as the zakynthian clay is not suitable for my work; it is low fired (around 700oC), light yellow (ochre) in colour, and it is only good for tiles for the roofs and for big pots to keep olive-oil, wine and food inside. Clay I use is high fired (up to 1280oC), white in colour and painting shows better on it.
There are special factories which take the clay from the ground remove all the external materials and make the first step of preparation. Although clay is pug-milled from the factory it needs more preparation before we can use it to make ceramics.
The first step is to remove all the air bubbles, with special equipment: pug mill. If we don' t remove air, ceramics will broke during firing. The pug mill compacts clay and in this way most (if not all) air bubbles are removed. Clay also becomes more firm, more plastic and easier to work with. Clay comes out from the pug mill in the shape of bars. Clay bars need to be cut in pieces according to the size of the items we want to make. In order to make things of the same size we have to cut clay in pieces of the same weight. Please see more information on http://www.adamieion.com/
Please ask for more information at your hotel reception.
We will be happy to assist you.